---

---
---


Click the above button to read all about the "Back From The Dead Vol. 2" CD,
or send an email to CD@jackandmisty.com
---
Here's something new for
LINE DANCERS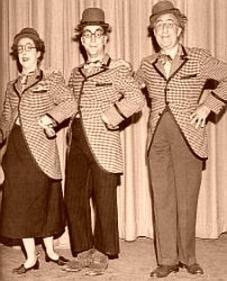 The new "Tennessee Birdwalk" line-dance
by choreographer Moragh Carter.
Music and a FREE printable step sheet.
Click here:
http://bird-walk.com/

Have fun. :)
Jack Blanchard & Misty Morgan
Stardust Records
(And welcome aboard, bird-walk.com! - Jerry.)
---

June 14, 2006...
Hi again, folks. Jerry here. Hopefully the shock of our new look has worn
off by now. [grin]

This has been the most exhausting revamp yours truly has ever accomplished
(and I'm not kidding, folks. We're talking 86 lyrics, 41 new thumbnails,
not to mention the new "Old News" pages... and that's not even counting
Jack's Columns... over 500 of the things! In a word, WHEW!!!)

Speaking of which, I was in such a rush to get the updating hurrying along
that I forgot to load up "The Great Kidney Stone Adventure". Sorry, folks.
It's now been added. Now I just have to get the rest of this year's columns
(plus a few from the past), and we'll be in business (and YFNW won't have to
do this again until... oh, say... in another six years?).

(While I'm on the subject of "Old News", the 2002 page might have looked a
bit off-kilter. Apologies for that. Hopefully the new upload will be more
readable.)

If there's anything you like (or don't like) about the look, let me know.
The email is sheplives@hotmail.com.
[Just don't tell me too soon. I can't see doing this all over again! :-) ]

Be good to yourselves at least once a day,
YFNW, Jerry.



---



June 13, 2006...
Hi, folks, YFNW Jerry here. So... how do you like our new look? 
(Don't say anything yet. Give it a chance to grow on you... like Spanish Moss.)
More on the subject in a minute. (The new look, not the Spanish Moss...)

First, the Jack and Misty Web Empire keeps growing, in the unlikeliest of
places! (Which, for them, is just about normal [grin]).
Check out their new space at myspace.com. (Yes, you read that right!)
It's the best thing that's happened to that site since... since... come to
think of it, they're the first best thing that's happened to that site!
The addy is: http://www.myspace.com/jackandmisty

Now, as for the new look on this nest...
Seriously, I've been toying with the idea of giving the site a complete visual
overhaul for some time, and now seems as good a time as any. For obvious 
reasons, the new look will come in gradual stages, but the alternative - 
shutting down the site completely while we do each and every page - was too 
much to contemplate.

Here's what we've got so far:

The updated lyrics page... yes, I said updated. I've added 10 new songs to the list (with possibly more to come... I'll have to check.)
The columns... Every single essay Jack has ever submitted for perusal.
The bios... The "Finding Her Voice" bio now links up to the "35 Years of Jack and Misty" bio by our friend, the late Mark Harris of ClassiCountry.com.
The Discology... That's now been streamlined as well. The first part will deal with the singles only; but check the bottom for the link to the albums. (Speaking of which... if anybody has scans of the "Sweet Memories" cover, please let us know! We need a 300x300 and 125x125, .jpg preferrable, but at this point, I'm a desperate webmeister. I'll take anything! :-) )
The Photo Gallery (speaking of which...)
The Old News (still one of life's great oxymorons...)
And of course, the news.
Not to mention, version 3.0 of our friendly low-tech order form.
Now, to answer a question. We recently got a letter asking how on earth we have the song playing on the front page. Here's how it's done (or at least, how I do it. Consider this the Birdwalk HTML lesson for the month.): When you've finished writing your page, put the following AFTER the </HTML> tag at the bottom of the page*: (For an example, we're using "The Voice" in Windows Media format.) <EMBED src="http://sheplives.tripod.com/TheVoice.wma" width=128 height=128 hidden=true type=audio/x-ms-wma autorun="true"></EMBED> Ta-da! Okay. Now on to other things. It wouldn't be Birdwalk if we didn't have at least one new Jack column. Fortunately, we do. Check out "The Great Kidney Stone Adventure" on the 2006 page. (Just not... too... carefully...) And that's it for now. (WHEW! I have got to get an internet connection someday!) Chirp chirp, everybody, and have a terriffic summer! YFNW, Jerry.
---
May 23, 2006...
HAPPY BIRTHDAY, MISTY!
THE BIRTHDAY GIRL. Enough about me. Tuesday, May 23rd is one of the most important birthdays in history... at least to me. Where would I be without my partner? (Here's a picture of the Birthday Girl) http://tinyurl.com/jh34r Misty Morgan has a photographic memory for music. I call it a "phonographic" memory. She can play any piece she hears once, even if it's just background Muzak in a store, but she does not read music. She has never sung a single note off key. Her first underage jobs were with pickup combos around Tonawanda, New York. They played standards, dance music, and a little country. As a piano single, she played and sang mostly standards, Broadway, and popular songs. When I met her she was playing with a country band at The Corral Barbecue in West Hollywood, Florida, under the name "Mary Male". One night, when we had only been together a short time, we went to a club to hear an all female jazz quintet. Somebody asked her to sit in on piano, and she accepted. I was embarrassed. I said, "Honey, you don't play jazz!!!" She just said, "I can do it." As she went on-stage, I went to the rest room. I didn't want to see it. Then I heard this great jazz piano, a mix of Oscar Petersen, Erroll Garner, and Ramsey Lewis! I went out and looked and it was Misty! She brought down the house. I said, "Where the hell did you learn that?" She just calmly said, "I told you I could do it" She can play all kinds of music, and she never plays anything the same twice. She is the first female entertainer I know of to play six stacked keyboards onstage. Sometimes the strings, guitars, fiddles, and other sounds on our records, are really Misty and her magic keyboards. She can blend them with Buddy Spicher, Johnny Gimbel, Vassar Clements, and other musicians, so that you can't tell. unless you were there. Her ear for sound is a valuable tool I use when mixing sessions. I can write the songs, and we work out the arrangements together, but she has the final word on the mixdowns. When I write a new song I sing it to her first. She never says it's bad. If she says, "That's really nice", I know it isn't. I have go back and work on the song until she gives the right reaction. It's sort of an excitement in her eyes... sometimes even tears. She's always right. My final editor. Everybody remarks about her unusual harmony when we sing duets. I have no idea what she's doing, and I don't want to know. It just works. On top of all this, she is the perfect straight man to my funny stuff. She folds her arms and gives me a look that says this: "Whenever you're through, dummy. We're trying to do a serious show here." The audiences love her, and so do I. Jack Blanchard © 2006.
---
May 14, 2006... Happy Mother's Day! And with that in mind, Jack has some thoughts, both sublime and ridiculous, in "Two True Stories For Mother's Day". Jack also has some thoughts on other subjects as well (doesn't he always?), as follows: "The Washington Post" - Wherein Jack gets lumped in with a whole bunch of folks. (May 7) "Epidemic Sickens Americans" - The drugstores don't sell a cure for this one! (May 8) "Songs Are Little Pieces Of Jewelry" - Some more thoughts on the songwriting process. (May 11) "Warning! Political Content!" - a self-explanatory piece. (May 13) Oh, and before we forget, watch this site for the next Jack and Misty single, "The Voice". On the home front, I've been experimenting with some new designs for the site. I'll let you know how it turns out. Again, have a Happy Mother's Day, folks. Best wishes, Jerry.
---
May 8, 2006... An apology. Due to the limited webspace that Tripod gives us (a lousy 20MB), we have to cut back on the music. In other words, we can only put up one song at a time from now on. Hate to do it, but the server won't let us put any more of Jack's Columns up until we clean up the space smomewhere. Hoping you understand, YFNW, Jerry.
---
May 5, 2006... HAPPY BIRTHDAY, JACK!!! (Whenever it is...) BUT WHO'S COUNTING? This just came over the news wire services. Do you see anybody you know? "Celebrity birthdays for the week of May 7-13: May 8: Comedian Don Rickles is 80. Country singer Jack Blanchard is 64. Singer Toni Tennille is 63. Singer Gary Glitter is 62. Drummer Chris Frantz of Talking Heads is 55. Singer Philip Bailey is 55. Country musician Billy Burnette is 53. Drummer Alex Van Halen of Van Halen is 53. Actor Stephen Furst ("St. Elsewhere," "Animal House") is 52. Actor David Keith is 52. Actress Melissa Gilbert is 42. Drummer Dave Rowntree of Blur is 42. Drummer Del Gray of Little Texas is 38. Singer Darren Hayes (Savage Garden) is 34. Singer Enrique Iglesias is 31. Actress Julia Whelan ("Once and Again") is 21." I can't believe I'm the second oldest, after Don Rickles. I used to be younger than everybody else. Jack Blanchard May 3, 2006
---
April 30, 2006... Hey there, folks! It doesn't seem like all that long ago when I was perusing the internet, and I ran across that article by Commander Coconut announcing the surprising return of Jack and Misty. Now, six years later, here we are, just on the verge of celebrating our anniversary as a website, and we couldn't have done it without the continued support of all the fans - I'm talkin' 'you', here - and of course, Jack and Misty. I just thought you should know that. Now, as we prepare for the anniversary month of May, now's as good a time as any to announce a couple more of Jack's columns. So, here they are:
"A Few Steel Guitar Thoughts" - or, c'mon, Jack, stop stringing us along... (Apr. 26) and "It All Started When I Said The Magic Words" - Proof you should always watch what you say (April 29). Well, that's all for now. See you sooner than you think. Oh, and HAPPY ANNIVERSARY!!!! Chirp chirp, YFNW, Jerry.
---
April 20, 2006... Hi, folks! Not much time today. Just enough, in fact, to let you know that Jack has a new column out, "Don't Fence Me In". Long time readers will already know what this one's about, but for you newcomers, dive right in and join the fray! That's all for now. Jerry.
---
April 19, 2006... Hi there, folks! YFNW (Your Friendly Neighborhood Webmeister) Jerry here. New column from Jack explaining just why filters don't work. Check out "Dirty Words Are Hidden Everywhere" and you'll see precisely what he's talking about. More to come soon. Have fun, Jerry.
---
April 13, 2006... Hi again, folks! Well, Jack and Misty made it back from their Tennessee trek in two pieces, and you can read all about it in Jack's latest column, "I Hop Alone". (Misty came up with that title.) Hopefully, we're all refreshed and reinvigorated by now. More to come soon. YFNW, Jerry.
---
March 23, 2006... Hi there, folks! YFNW Jerry here, and we're back in the birdhouse again (will these bird analogies NEVER stop?!?) We have three new columns from Jack in our essay department, a brand new single, "The Sunset Train", and in our CD shop, the new Australian disc "Life and Death (and almost everything else.)"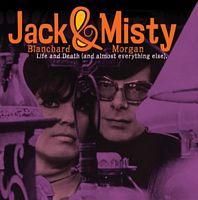 (Or have we mentioned that already?) That's it for the moment. Take care. Best wishes, Jerry
---
March 21, 2006... Hi again, folks! Just got some great news from Jack and Misty. They have a limited supply (stress: limited supply) of the new Australian Import CD "Life And Death (and almost everything else.)! As it is an import, it does cost a bit more ($22.95, plus regular shipping and handling), but they'll personally autograph each copy. Take it from yer friendly neighborhood webmeister when I say, this is a must have for your collection! Check the order form for details. Oh, the columns link has now been fixed (FINALLY!), so now you can see what Jack's been up to this year as far as musings. Hoping your spring hasn't sprung yet, YFNW, Jerry.
---
March 16, 2006... Boy, how time flies when you're under the weather! Hi, folks, Jerry here, back out of the sickbed, another year older, and raring to go with the latest Birdnews from the nest. Before anything else, I must mention the new Jack and Misty single, "The Sunset Train" on Stardust International (Compilation #60). (check.) Also, the 2006 columns/essays pages are now up, with plenty of Chairman Jack's sage observations on... well... just about everything! (Yes, there's even one on "The Sunset Train", including lyrics and an audio link!) Gotta go, but will be back by the weekend. Feels good to be back. Yer friendly neighborhood webmeister, Jerry
---
January 29, 2006... Hi, (*hack*) folks. Your friendly neighborhood (*hack!*) Webmeister, Jerry, here, under the weather but out of the nest, and welcome (albeit belatedly) to 2006. A lot has been happening since last we met, but let's not go into that. Instead, let me update you on the columns situation. (You're owed that much.) Frankly, I've just been too sick to get to them. (How sick, you may ask? And well you should.) I haven't even had the chance to upgrade the column page. But, rather than curse the darkness, I can instead announce the first batch of January 06 essays by Chairman Jack: "The Point Of No Return" - Food for thought. Pass the Pepto. (Jan. 8) "Friends And Lovers" - When you gotta have 'em, you gotta have 'em. (Jan. 11) "Answers To Personal Questions" - Jack tells us more than we need to know. (Jan. 14) "Norm" - Another cautionary tale. (Jan. 16) "The Fairytale Behind The Song" - Are you sitting comfortably? Then we'll begin... (Jan. 20) "The New Car" - Things to consider when you're buying your next set of wheels. Or not. (Jan. 22) And that about wraps it up for now. See you when I recover. Chirp chirp for now, Jerry