We interrupt this web site for an important commercial.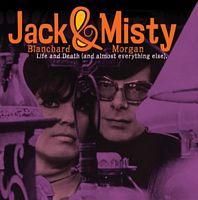 We have limited quantities (20) of the new Australian import "Life and Death (and almost everything else.)", personally autographed by Jack and Misty! Nearly everything you could ever want from the Wayside and Mega Records years, plus exclusive photos and liner notes from both noted Australian composer (and CD compiler) David Thrussell and Jack Blanchard. In a word, indispensible! Please note: Since this is an import, it costs a bit more - $22.95 plus our regular shipping and handling - but trust me, folks. It's worth it! Check the
low-tech order form
.
---
Here's the rest of our line-up!
---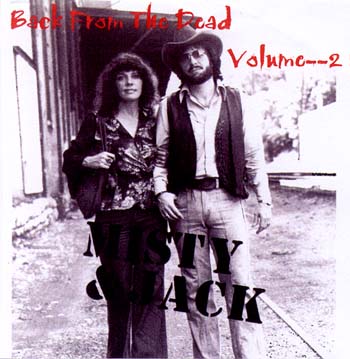 Velvet Saw VSCD 1
We're pleased and happy to announce that if you want BACK FROM THE DEAD, VOLUME 2, the debut Jack Blanchard & Misty Morgan CD on Velvet Saw, your wait is over!
You can now order it exclusively from the website!! The cost is $16.95, plus shipping which is as below:
Add $3.45 for each CD for US shipping and handling. ($3.95 outside the US.)
Contact:
They'll contact you by eMail (or snail mail, if you prefer), and your order will be processed immediately!
A statement from Jack:
We've been getting a lot of mail asking what songs are on our new 23 song CD "Back From The Dead, Vol. 2". Most ask if any of our classics are on there. Yes. It's a mix of our old and new, all digitally mastered.
I am getting typist's cramp answering them, so I'm putting them here for those who are interested.
The CD is available from "CD@jackandmisty.com" (see ordering info below)
Here's the songlist:
Somewhere In Virginia In The Rain
Just One More Song
There Must Be More To Life (Than Growing Old)
Tennessee Bird Walk
When The Blues Come In From The Rain
Call On Me
Carolina Sundown Red
The Legendary Chicken Fairy
Cows
Hands
I'm High On You
I Love You, I'm Sorry, Goodbye
Island Of Love
Miami Sidewalks
Something On Your Mind
Our Room
Rings Of Gold
Shadows Of The Leaves
Sweet Memories
Try
The Voice
X-Rated Movies
You Come So Easy To Me
WHEW!!! I hate typing!
Those are the 23 tracks on "Back From The Dead, Vol. 2". Some old, some new. All digitally remastered.
Jack Blanchard
---
P.S.: Jack and Misty are making copies of their "Back From The Dead" CD available to radio stations in the U.S. and overseas. All interested program directors should contact them at "Jack@jackandmisty.com" for all the details.
---
Speaking of the CD, Jack asked me to announce that they can now accept Paypal, the email money transfer service, on CD orders, and also, there's no more 6 to 8 week wait. They'll ship the CD within two business days of receiving the order, and it'll arrive in about a week, sometimes less.
---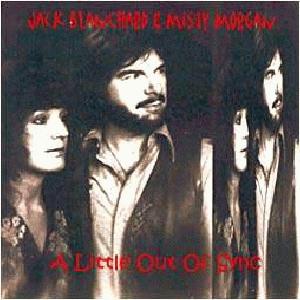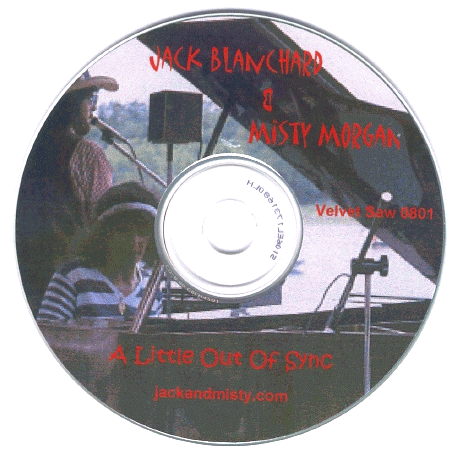 The world has been waiting with baited breath!! World, stop eating bait!! Here it is at last... The tracklist of Jack & Misty's second Velvet Saw CD, "A Little Out Of Sync"!
"A LITTLE OUT OF SYNC"
Velvet Saw 0801 (August 2001)
$16.95 + $3.45 S+H
SONGLIST:

1.Because We Love.
2.A Handful Of Dimes.
3.Starvin' Hog Blues.
4.Safe Harbor.
5.Second Tuesday In December.
6.Here Today And Gone Tomorrow.
7.Fire Hydrant Number 79.
8.I'm Down To the End Of the Wine.
9.Rusty And the Cowboys.
10.Heartaches. (The old standard)
11.It Seems Like There Ain't No Goin' Home.
12.I'm Washin' Harry Down the Sink.
13.Poor Jody.
14.Shadow Of a Big Black Bird.
15.Bethlehem Steel.
16.The Clock of St. James.
17.You Can't Say I Didn't Try.
18.Humphrey the Camel.
19.Motel Time.

All songs original © Jack Blanchard Songs (BMI), except "Heartaches" (John Klenner/Al C. Hoffman; © 1931 Leeds Music ASCAP).

---
"MASTERS OF THE KEYBOARDS"
Velvet Saw VS 0901 (September 2001)
$13.95 + $3.45 S+H
Jack and Misty's first ever instrumental album!
1. Perry Mason Theme, blended with an original: Strange Cargo.
2. Turn To Me. Big Band, with latin rock rhythm.
3. The Miami Stroll; a potential popular dance.
4. El Dorado. Latin jazz rock, inspired by Stevie Wonder.
5. Six Mexican Bars. A little Jack & Misty traveling music.
6. Gershwin's Ghost. Four hands on the piano.
7. Possum Trot. Country inspired by Chet Atkins and Les Paul.
8. New World. A trip into outer space. Special Guest: Doug Tarrant on guitar.
9. Hot Potato. A battle of the saxes.
10. Last Dance. A low down blues.
All songs written by Jack Blanchard and Misty Morgan © Jack Blanchard Songs (BMI) except: "Perry Mason Theme" (Fred Steiner) © April Music Inc. and Bibo Music Inc. (ASCAP). Order the CD HERE!
---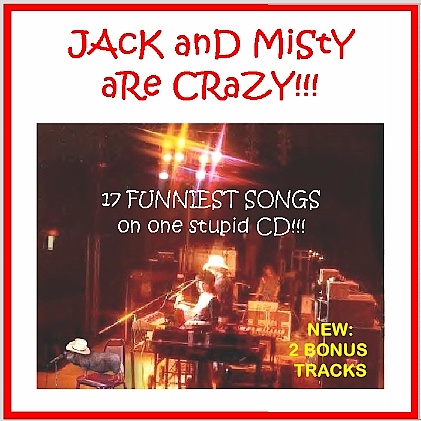 It's been certified... JAcK anD MiStY aRe CRaZY! Finally, 17 of their silliest songs on one stupid CD! The best of the old and some new tracks as well.
Jack and Misty Are CRAZY!
Velvet Saw 1101 (November 2001)
$16.95 + $3.45 S+H
1. The Cockroach Stomp. (First time on CD!)
2. Tennessee Birdwalk.
3. Legendary Chickenfairy.
4. If Eggs Had Legs. (First time on CD!)
5. Cows.
6. The Poinciana Bar. (NEW!)
7. How I Lost 31 Lbs. In 17 Days. (First time on CD!)
8. Humphrey the Camel.
9. Fire Hydrant #79.
10. The Voice.
11. I'm Washin' Harry Down the Sink.
12. Starvin' Hog Blues.
13. Yellow-Bellied Sapsucker. (First time on CD!)
14. The Family Band. (NEW!)
15. The Love Habit. (NEW!)
16. X-Rated Movies.
17. Molasses In the Moonlight. (First time on CD!)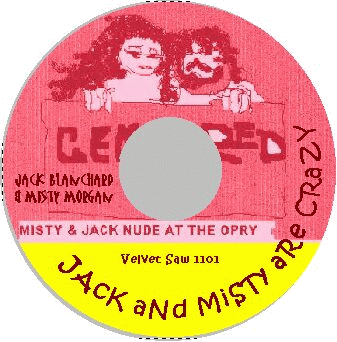 If you need a good laugh (and goodness knows, who doesn't?) this is the album for you!
---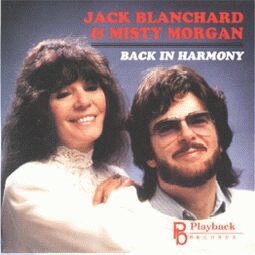 BACK IN HARMONY
Playback PCD 4512 (CD)
1992
Produced by Jack Gale.
Sea Of Heartbreak (3:09) (David-Hampton)
Shapiro-Bernstein/Casa David
Because We Love (2:27) (Blanchard-Morgan)
Jack Blanchard Songs (BMI)
I'll Never Be Free (2:36) (George David Weiss-
Benjamin Bennie) Abilene Music/Claude A Music
Memories Of You (3:08) (Johnny Cymbal)
Longjohns Music
Back In Harmony (2:30) (Silverstein-James-Fagan)
Evil Eye Music/Turtle Dust Tunes/Of Music (BMI)
Dream A Little Dream Of Me (3:08) (Schwant-Andre-Kahn)
Essex Music/Words & Music/Don Swan Pub./
Keyes Gilbert Music
Shame On The Moon (3:48) (Rodney Crowell)
Coolwell Music/Granite Music
Hands (3:03) (Blanchard) Jack Blanchard Songs (BMI)
The One You Really Love (2:34) (Danny Saegar) Lovey Music (BMI)
Crossing The Line (2:23) (Paul Humphrey) Lovey Music (BMI)
Sorry, this CD is no longer available.
---
It's been a little over 3 years, but it's been worth the wait.
"What?" you ask?
Why, the brand-new Jack and Misty CD Collection on Velvet Saw (of course)!
It's called "Beginnings" and here's all you need to know:
"BEGINNINGS"
JACK BLANCHARD & MISTY MORGAN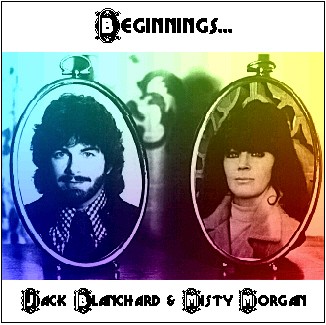 Velvet Saw VS 1104 (December 2004)
$17.95 + $3.45 S+H
To order, click here: cd@jackandmisty.com
Titles and dates recorded:
1. A PLACE IN MY MIND, 1968
2. TRY ,1975 (Backup vocals 2004 *)
3. LONESOME SONG, 1973
4. SOMETHING ON YOUR MIND 1974
5. CHANGIN' TIMES, 1968
6. THE SUNSET TRAIN, 1969
7. ASLEEP IN THE SADDLE, 1973
8. TENNESSEE BIRDWALK (The original), 1968
9. MOLASSES IN THE MOONLIGHT, 1974 (Backup vocals 2004 *)
10. YOU GOT YOUR TROUBLES (I'VE GOT MINE), 1968
11. LET'S PRETEND, 1974
12. THE AUTUMN SONG, 1968
13. STILL COMIN' DOWN, 1975 (Backup vocals 2004 *)
14. LIVIN' TOGETHER, 1974
15. I'LL GO HOME WITH YOU, 1974
16. WE'VE STILL GOT EACH OTHER, 1975
17. THE DUM SONG, 1968
18. YOU COME SO EASY TO ME (original version), 1973
19. YELLOW BELLIED SAPSUCKER, 1968
20. GEMINI, Early 60's. Our first record.

The musicians:
Piano: Hargus Robbins, Misty Morgan, Jack Blanchard.
Pedal steel guitar: Pete Drake, Lloyd Green, Buddy Emmons, and Weldon Myrick.
Fiddles: Buddy Spicher, Vassar Clements.
Bass: Henry Strelecki, Junior Huskey, Bob Moore, Jackie Raye.
Lead guitar: Billy Sanford, Pete Wade, Jerry Shook, Doug Tarrant.
Synths, Clavinet, and organ: Misty Morgan.
Dobro: Lloyd Green.
Ryhthm guitar: Bobby Thompson, Pete Wade, Kelso Hurston.
Banjo: Bobby Thompson.
Drums: Larrie London, Buddy Harmon, Ronny Caban.
Harmonica, vibes,tuba, and special effects: Charlie McCoy.
Original Backup vocals: The Nashville Edition, The Anita Kerr Singers,
Jack & Misty, The Muscle Shoals Singers, and The Lea Jane Singers
New backup vocals: Manon's Dream.
Studios: Nashville: Woodland, Columbia, Mercury, Music City Recorders.
Muscle Shoals: The Music Mill. Miami: Criteria Studios.
2004 backup vocals production:Randall Cousins, Alleged Iguana Records.
Original sessions Produced by Jack Blanchard & Misty Morgan.
* Production notes: Three of the tracks contain minor audio flaws.
We felt they were important enough to include here.
This was a fun project for us, and we hope it is for you.
Jack Blanchard & Misty Morgan © 2004.

PO Box 470121
Lake Monroe FL 32747
Phone: 407 321 5361

Click here for the dedicated low-tech order form!
---
Okay, okay, we can take a hint! For years, Jack and Misty's fans have been asking for a reissue of "Two Sides Of Jack & Misty" on CD.
Well, ask, and you get it...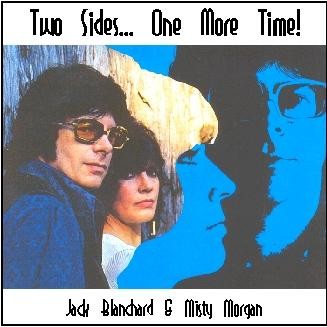 Jack and Misty's long out of print 1972 Mega album is back... one more time!
TWO SIDES... ONE MORE TIME!
Archeological Records AR 0806 (August 2006)
$16.95 + $3.45 S+H
The songs:
Somewhere In Virginia In The Rain (2:35)
Sweet Memories (Mickey Newbury) (2:57)
Rings Of Gold (Gene Thomas) (3:19)
The Shadows Of The Leaves (2:45)
There Must Be More To Life (Than Growing Old) (2:35)
The Legendary Chicken Fairy (2:21)
Miami Sidewalks (2:36)
Fire Hydrant #79 (2:40)
Don't It Make You Want To Go Home (Joe South) (2:27)
If Eggs Had Legs (2:42)
All songs by Jack Blanchard except as noted.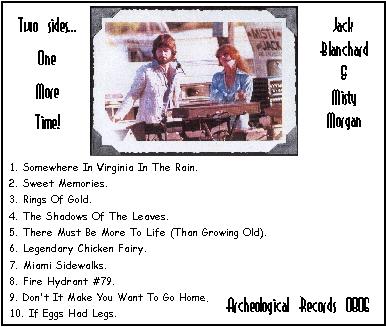 THE WAIT IS OVER!!!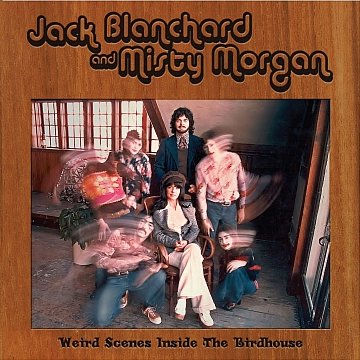 We've got 50 copies of the new Australian import "Weird Scenes Inside The Birdhouse"! Check the album discology for contents, and then use version 3.3 of the order form. To order this, or any of the CDs you see here, send an email to:
CD@jackandmisty.com
or just use our by now world-famous Low-Tech Order Form!
---
"A Little Out of Sync" and "Back From the Dead, Vol. 2" samples:
http://artists.mp3s.com/artists/90/stardust_records_intl.html
http://Real-Music-World.net/jack-misty-pge.htm
http://www.mkoc.com/Horizon/jack-misty.htm
JACK & MISTY: "MASTERS OF THE KEYBOARDS" samples:
https://www.angelfire.com/music4/jackandmisty/