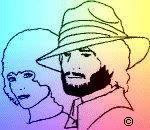 Now over 45,000 readers.

"The New Car"

We had three big white station wagons in a row 
over a decade or so. 
We liked the bigness for safety, 
and the extra room for our keyboards and other things. 

The first one got t-boned in a traffic accident, 
but as bad as it looked, it still ran. 
It looked like a croissant going down the road. 

Eventually we bought a twin to it, except a newer model, 
and people thought we'd had the old one fixed. 
When that wore out, we bought a third big eight cylinder wagon. 
It was more of an off-white, but nobody noticed. 
They thought it was still the first one with new paint. 

A couple of weeks ago 
we bought a another station wagon, 
a slightly smaller six cylinder model 
in a nice shiny dark blue. 

Misty was raking the yard yesterday, 
when a neighbor came by 
and said "I see you have a new paint job on your car" 

Misty said this: 
"Yes. We had it painted a smaller color." 

Copyright © January 22, 2006 by Jack Blanchard. All rights reserved.













©2007 www.jackandmisty.com. all rights reserved.