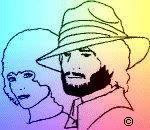 Now over 45,000 readers.

"A Few Steel Guitar Thoughts"

Alvino Rey was the first big star of the electric steel guitar, 
and the inventor of the original talking steel. 
Pete Drake later invented a simpler way of doing it. 

Alvino had a really good big band, with the King Sisters on vocals. 
They were jazz oriented. Terrific chords. 
The King Sisters were like a famale Four Freshmen. 
They had a regular King Family TV show in the 1950's or 60's. 

Speaking of the Freshmen, 
Pete Drake produced their last album with the original members. 

Pete was the #1 Nashville session steel player in the late 60's to mid'70's. 
I produced sessions with Pete on steel, 
and on one song he sounded like a Hammond B-3 organ. 
He did the steel on George Jones' "He Stopped Loving Her Today". 
That big steel slide was one of the hooks that sold the record. 
To us, he was the most thrilling steel guy to work with. 
He tried impossible things, 
that you thought he wouldn't pull out of, 
and he made them work. 

Other great steel players we recorded with were 
Lloyd Green, Buddy Emmons, and Weldon Myrick. 
Each of these players has a distinct and different style. 

I played my 1934 Rickenbacher Bakellite lap steel 
and my 1927 National Tri-Cone all metal dobro 
on several of our tracks. 
I loved those instruments. 
I got broke in Nashville and sold them to Shot Jackson for $200. 

I later learned that together they were worth over $100,000. 
I've always been a sharp businessman. 

Copyright © April 26, 2006 by Jack Blanchard. All rights reserved. 
Reprinted by permission.













©2007 www.jackandmisty.com. all rights reserved.