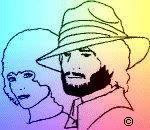 Now over 45,000 readers.

"The Washington Post"

Hey, I don't make much money, but what the hell, 
I'm in The Washington Post. 
   Jack 

THE WASHINGTON POST. 

Today's Birthdays: Comedian Don Rickles is 80. 
Environmentalist Sir David Attenborough is 80. Actor James Mitchum is 65. 
Country singer Jack Blanchard is 64. Singer Toni Tennille is 63. 
Jazz musician Keith Jarrett is 61. Singer Philip Bailey (Earth, Wind and Fire) is 55. 
Rock musician Chris Frantz (Talking Heads) is 55. Rockabilly singer Billy Burnette is 53. 
Rock musician Alex Van Halen is 53. Actor David Keith is 52. 
Actor Stephen Furst is 52. Actress Melissa Gilbert is 42. 
Rock musician Dave Rowntree (Blur) is 42. 
Country musician Del Gray is 38. Rock singer Darren Hayes is 34. 
Singer Enrique Iglesias is 31. Singer Ana Maria Lombo (Eden's Crush) is 28. 
Actress Julia Whelan is 21. 

Read the full article here: 
http://www.washingtonpost.com/wp-dyn/content/article/2006/05/07/AR2006050700838.html 

Copyright © May 7, 2006 by Jack Blanchard, Reprinted By Permission. 
All rights reserved.














©2007 www.jackandmisty.com. all rights reserved.