(Sections from "Finding Her Voice" by Mary Bufwack and Robert K. Oermann.)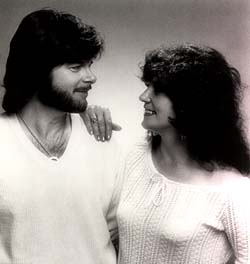 Misty Morgan and her husband Jack Blanchard are so different that nobody can figure out exactly what they are.
Born in Buffalo, New York, Misty was a piano prodigy who entered professional music in pop combos of the sixties. In 1967 she married Jack, a wonderfully off-center songwriter, and they teamed up in Florida to perform jazz, rock, Dixieland, or anything else it took to put bread on the table. Misty hooked up all kinds of electronic devices to her piano, so the two never really needed more band members.
Jack and Misty developed a quirky "stoned" sound, something like Sonny and Cher lost in a poppy field in South Carolina. His "velvet saw" bass voice cuts across her warm dreamy alto, while underneath pulses a steady shuffle beat dotted with harmonica and steel guitar bubbles of sound. Jack's lyrics alternate between totally bizarre novelty nonsense and deeply felt social commentary. They call their distinctive creations "Jack and Misty Productions", so she can be credited as country's trailblazing female record producer. When the wacky "Tennessee Birdwalk" topped the country charts in 1970, Misty Morgan became the first woman in country music to have co-produced a Number One hit. The record crossed over to become a sizable pop hit, as well. The twosome followed this with the equally kooky "Humphrey The Camel," "Fire Hydrant #79," and "The Legendary Chicken Fairy".
But there is more to the beautiful brunette and her long-haired husband than that. "There Must Be More To Life (Than Growing Old)" and "Poor Jody" ruminate on aging. "Bethlehem Steel" is about a discouraged, homesick factory worker. "Big Black Bird" and "The Shadows Of The Leaves" have mystical love lyrics. "Changin' Times" laments the commercialization of modern life. The compelling "Somewhere In Virginia In The Rain" tells the story of a working-class pair's breaking up and reconciliation.
Jack's groaning rasp oozes with soul, while Misty's delectable, behind the beat phrasing anticipated the popularity of stylists such as Willie Nelson. Jack and Misty are still writing, recording, and performing concerts which feature original songs and light comedy.
VITAL STATISTICS:
Both born in May, at the Millard Fillmore Hospital, Buffalo, New York.
Both have blue eyes and brown hair.
Both had parents named John and Mary, and sisters named Virginia.
Both have traced ancestors to the Alsace-Lorraine area of Europe.
Both lived for a time in southern Ohio before moving to Florida, where they finally met.
Misty plays piano and electronic keyboards.
Jack plays electronic keyboards and slide guitar.
They arrange and produced their own recordings.
They have been Billboard's Country Duet Of The Year, and were nominated for a Grammy (for Tennessee Birdwalk).
They have logged 119 weeks in the top end of the national Country charts.
They presently live in central Florida.
Write to them at:
Jack Blanchard and Misty Morgan
PO Box 470121
Lake Monroe, FL
32747-0121
Interested parties may call:
(407) 321-5361
or contact:
Tessier-Marsh Talent, Nashville
---
Back in 2002, the late Mark Harris of ClassiCountry.com did what Jack and Misty consider to be the definitive bio of them to date, "35 Years of Jack and Misty Music." To read that, just click on the above photo.