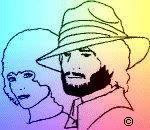 Now over 45,000 readers.

"You Stink!"

"You stink" is not constructive criticism. 
I know I've used that line before. 
YOU DON'T HAVE TO TELL ME! 

I'm sorry. 
I didn't mean to yell, 
but I'm a sensitive person, you know. 
If somebody shoots me a bird in traffic, 
I have to pull over and cry it out. 

I yelled at a WalMart cashier today. 
I said: "WHERE'S MY 'HAVE A NICE DAY?' 
YOU GAVE ONE TO THE IDIOT AHEAD OF ME! 
DON'T I MATTER ANYMORE?!" 
She said: "Have a nice day". 
I said: "Too late. I'm hurt." 

I had a birthday the other day. 
An ex-friend told me I look ten years younger than my age. 
I said, "Thank you". 
I thought, "Only ten, you jerk?' 

So you can see why it bothers me when someone criticizes our music. 

We once had a promotion man who reported to us 
every snotty little thing that was said about our recordings. 
We fired him. 
He asked why, and we told him this: 
"Everybody says you're a lousy promoter." 

I'm always anxious to hear how much you love our latest song, 
but please stop there. 
Don't say: 
"I like your record, 
but, the rhythm ought to approximate the beat of the human heart.", 
or, "It's too fast for nude leap frog". 

A wise man once told me: 
"Don't listen to anything before the 'but'. 
All the words before the 'but' are just a cushion, 
and all the words after are what they REALLY mean." 
There were two other wise men, but they didn't tell me anything. 

We know our music is good. 
That may not sound politically humble, 
but it's "what we do". 
I'm not handy around the house, 
so don't ask me to fix your fly zipper, please. 
I don't play golf, I don't jog, and I never could hold a day job. 
What's wrong with doing one thing well? 
Like music. 

There are record promoters who feature DJ feedback. 
That might be okay for you, 
but I'd go nuts! 
Don't tell me who hates my work and why. 
I have never in my life publicly criticized a DJ show, 
or a record promoter. 
Why should the artists get the unsanitary end of the stick? 

It's not like I've ever gotten much bad feedback. 
We get wonderful reviews, 
and the DJ's are almost always very warm toward us. 
I wonder why I keep thinking a "You stink" is just around the corner? 
Is it paranoia? 
Is it low self-esteem? 
Is it lunch time? 

I know I've used that line before, too. 
YOU DON'T HAVE TO TELL ME! 

Copyright © May 24, 2002 by Jack Blanchard. All rights reserved.













©2007 www.jackandmisty.com. all rights reserved.