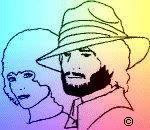 Now over 45,000 readers.

"What To Do On A Rainy Day"

Today was a rainy day, 
so I was standing on my head, 
with a flashlight in my teeth, 
looking through our old 45's and LP's, 
in a hidden compartment under our bedroom closet. 
The trap door over the compartment 
kept banging me on the back of the skull. 

I didn't find the item I was looking for, 
an acetate disc of our Dawn Breakers recording 
of "Big Town Blues" and "Dream", 
that we made in the mid-fifties. 

I did find a lot of other good stuff 
that I'd forgotten we did, 
or thought had decomposed by now. 

Acetate discs were recorded one at a time 
on a machine like a phonograph in reverse… 
The needle dug the music into the grooves. 
These were mainly given to recording artists and producers 
to take home and listen to after a recording session. 
They started to deteriorate before you got them home, 
and were only good for a few plays. 
This was before cassette tapes and CD's. 

A while back, when we sold a house 
and were heading out on the road, 
we entrusted our accumulated treasures to a friend to hold for us. 
The friend let her kids use our records for Frisbees and drink coasters. 
I think they ate lunch and skated on them too, 
so most of the records are in rough shape, 
but I think I can salvage a lot of the lost music. 

She refused to return more than half of our things, 
and will probably sell them on Ebay. 

I found the original acetate disc of "Tennessee Bird Walk" 
that they gave us at the studio in 1969, 
immediately after we recorded it. 
It's in surprisingly good condition. 

There is an Armed Forces Radio show 
Misty and I did for the government in 1978. 
On the other side of the LP 
is a show with Ferlin Husky & Betty Jean Robinson. 
We did these shows live. 

Under a bunch of lost socks, 
was a Jack & Misty Columbia LP 
that was never released. 

I found a bunch of songs I wrote 
recorded by other people. 
One was Billy Joe Burnette singing "Don't It Look Like Georgia". 
Another was Englebert Humperdink" doing "Second Tuesday in December", 
and The Ventures playing our "Gemini". 

But, best of all, 
I found some recordings we made 
and released in Florida on our own labels, Darn, Earth, Zodiac, and Marianna.. 
Some of these are really good songs 
that I've been hoping to find for years. 

There is an acetate recording of our jazz band 
made in Key West around the time of the Civil War. 
I thing the record is in worse shape than General Grant is right now. 
I'll try to get something off it, 
but I don't expect much. 

I found these rarities… 
"Lonely Bell", No Sign of Love", "Cotton Blossom", 
'Midnight Greyhound", 
and some cuts Misty made under her numerous aliases 
when we were just starting out. 
We were very proud of these at that time. 
It'll be fun to hear them again. 

Now Misty will wash them all with dish detergent, 
let them air dry, 
and then I'll hook up my trusty Gramophone, 
and see what's on them. 
. 
We feel as though we've found rainy day treasure. 

Copyright © August 9, 2005 by Jack Blanchard. All rights reserved.













©2007 www.jackandmisty.com. all rights reserved.