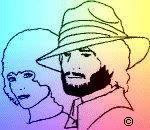 Now over 45,000 readers.

"Waiting For Something Good"

A friend who has just moved to a new place,
told me this today:
"I want to go home." 

I think we all want to go home. 

In my case, if I did get to go there,
I'd find there's no "there" there. 

I thought I'd better take a pill, or start writing,
so that's how we got here today.
Writing won. 

The hometown I remember is long gone.
It seems we go through life settling for substitutes. 

I still see the streets roofed with arched elm trees,
and the old neighborhoods clean and friendly.
If I were in Buffalo right now,
I wouldn't know whom to visit.
(That's the first time I've ever said "whom".) 

The old friends and relatives have gone,
one way or another. 

I'd probably have trouble finding my way around.
Things change.
It's our most reliable law. 

Back when the earth was cooler,
we bought a VA home in the Carol City section of Miami.
We never got it fully furnished,
before we moved to Key West to start a new singing experiment. 

After a couple of hit records,
we got a Miami booking,
and drove out to have a look at our former house.
The new people in the neighborhood
threw rocks at our motor home.
So much for nostalgia. 

Change usually has an up side,
if we look for it.
We lost the house,
but gained a career. 

I can't find the up side to the people we've lost lately,
but this Internet thing seems to be reviving our music.
That's good. 

We could use a change of some kind right now.
Misty and I have always tended toward restlessness.
We prefer excitement to serenity.
There's not much excitement here in Central Florida,
unless you're a tourist,
or you enjoy all-night raves. 

We want to go somewhere…
To see the autumn leaves…
Meet with our new friends,
those we've only conversed with by phone or email.
We'd like to record in Nashville again
with the old gang of A-Team pickers.
To have face-time with friends and relatives we never get to see. 

So, that's our wish list. 

The nice thing about change is this:
You never know…
If we keep trying,
something good might happen.

Copyright © September 9, 2002 by Jack Blanchard. All rights reserved.













©2007 www.jackandmisty.com. all rights reserved.