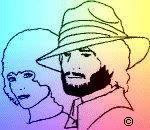 Now over 45,000 readers.

"Unusual Song Titles"

Hi.
I'm starting a collection of "unusual" song titles.
Here are a few I have so far:

"THEY CAN KEEP ME IN PRISON,
BUT THEY CAN'T KEEP MY FACE FROM BREAKING OUT."

"MY HAIRDRESSER'S IN JAIL AND MY ROOTS ARE SHOWING."

"GLADYS ISN'T GRATIS ANYMORE."

"WHO THREW THE BENZADRINE IN MRS. MURPHY'S OVALTINE?"

"THEY TRIED TO SELL US EGG FOO YOUNG"

If you have any, and would like to add to the collection,
just email them to me.
It's not necessary to have a song.
Just the title.
I'll send them out occasionally as the collection grows.

Thanks.
-Jack
And just two days later, on Jan. 26th, Jack wroteth: 
HERE ARE THE SONG TITLES YOU SENT IN. 

I haven't retyped the titles
or put them in any order.
I just pasted them as they came in.
Many were duplicates, some are old groaners,
and some are very funny.
Thanks to all who contributed.
I've listed a few of the names at the bottom.
Those who's names I missed can be proud to know
that they have been a part of something meaningful.

* * * 
I don't know whether to kill myself or go bowling.

I duct taped your picture to a pit bull,
and it feels just like I'm comin' home to you.

I wouldn't take her to a dogfight,
cause I'm afraid she'd win.

The Lawrence Welk, Hee Haw, Counter Revolution Polka.

There Aint a Chicken safe In Tennessee.

You're The Hangnail In My Life.

Common, Broke Elastic, Rotten Cotten, Funky Fuzzy, White Sock Blues #2.

My head hurts, My feet stink, and I don't love Jesus.

I can't love your body if your heart's not in it.

I'd rather have a bottle in front of me than a frontal lobotomy.

If The Phone Doesn't Ring, It's Me.

Praise The Lord and Send Me The Money.

If You Won't Leave Me, I'll Find Somebody Who Will.

I INCREASINGLY LIKE YOU LESS AND LESS.

PAPA WHERE'S THE HAMMER? THERE'S A FLY ON THE BABY'S NOSE!

HER HAIR WAS BIGGER THAN HER HEART.

The Interstate Is Coming Through My Outhouse.

Store Bought Teeth.

Don't Let that Door Knob Hit You.

Jeremiah Peabody's polyunsaturated quick dissolving fast acting pleasant
tasting green and purple pills.

I'm in a pair of pants on the outskirts of town.

I'll get over you when you get out from under him.

I've got tears in my ears from lying back in my bed while I cry over you.

I Was Just One Beer Short of Having a Good Time.

You're Wife's Been Cheating On Us.

GET OFF THE STOVE GRANDMA, YOU'RE TOO OLD TO RIDE THE RANGE.

I cut out sinning. Now I'm cutting out paper dolls.

You Stole My Wife You Horse Thief.

I FLIPPED OVER HIM, BUT HE FLIPPED ME OFF.

My Wife Ran Off With My Best Friend and I Miss Him.

I can't get over you, so get up and answer the phone yourself.

You are the hair beneath my wings.

They can keep me in prison, but they can't keep my face from breaking out.

My Hairdresser's in jail and my roots are showing.

The Dance of the Living-dead Chickens.

They tried to sell us egg foo young.

A Do-or-die Romance (I'd rather do it, and you'd rather die.)

Ernie Ashworth
Dalton Roberts
Jackie Burns
Bill Miller
Bob Skurzewski
Clarence R. Johnson
Barry Wass
Jim Pierce
Les Swazzo
Pete Smith
Ron Wiggins
Graham Wilson
Shirley Sheppard
Raymond Peace
Bill Littleton
Alex Cullum
Dick Shuey
Mayf Nutter
and so many others.

Thank you all for being a little nuts.

-Jack Blanchard 

Copyright © January 26, 2002 by Jack Blanchard. All rights reserved.













©2007 www.jackandmisty.com. all rights reserved.