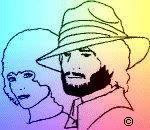 Now over 45,000 readers.

"Thinkwalking"

I took a walk today 
and these are some of the things I thought about. 

We have a light in our refrigerator, 
but it goes off when you open the door. 

If they can make sex a whole course in schools, 
there must be more to it than I thought. 

The decline of show business: 
The audience has taken over the show, 
e.g. reality TV shows, karaoke, etc.. 
They'd rather watch each other 
than watch professional entertainers. 
Why not take take Merle Haggard's voice off a record 
and let a drunk sing it? 

They'd rather listen to a DJ 
than real musicians. 
They prefer those silly and unreal "reality" TV shows, 
over good stories with good actors. 
Maybe it's a decline of imagination. 

I'm glad the elections are behind us. 
I had to go back on my anti-depressants. 
No republican was safe around me. 

We seem to fight each other, 
but what we're really fighting against is change. 

I write songs because I have to. 
It's not my job. 
It's who I am. 

We spend a lot of effort picking out material things 
that will hide our true selves. 

A song has been running through my head all day. 
It's one I wrote a long time ago. 
The chorus goes like this: 
"If I had a time machine 
To take me back to New Orleans, 
We could play those old love scenes again. 
I wish I may. I wish I might 
Have no more lonely days and nights. 
Everything would be all right 
If I had a time machine." 

Copyright © Sept. 5, 2005 by Jack Blanchard. All rights reserved.













©2007 www.jackandmisty.com. all rights reserved.