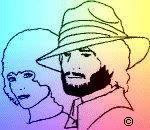 48,000 intelligent good-looking readers.

"The Studio Musicians"

It's time we thank those who make our songs sound so good.

One of the world's great electric bass players: Henry Strelecki.
Our favorite banjo players: Bobby Thompson and Henry Cook.
Our friend and steel/dobro player: Lloyd Green.
On piano, Hargus Robbins. Who else?

The great fiddle players: Buddy Spicher, Johnny Gimbel, and Vassar Clements.
Lead guitarist on most of our sessions: Billy Sanford.
Other fine guitarists who recorded with us:
Chip Young, Doug Tarrant, Jerry Shook, and Travis Womack.

Charlie McCoy, who plays all instruments,
and always knows just what it needs.
The great session drummer: Larrie Londin,
and the one and only Junior Huskey on acoustic bass

The beautiful backup vocals of The Nashville Edition and the Leah Jane Singers.
And other amazing talents who have brightened our recordings:
Steel guitar: Weldon Myrick, Buddy Emmons, and Wayne Bridge.
Bassist: Bob Moore.
Let's not forget the gang from Muscle Shoals.
And so many more.

Friends we miss: 
Larrie Londin, Bobby Thompson, Junior Huskey,and Vassar Clements.

But, haven't we had fun!
Thanks and much love to you all.

Copyright © March 14, 2008 Jack Blanchard. All rights reserved.
Reprinted by permission.













©2008 www.jackandmisty.com. all rights reserved.