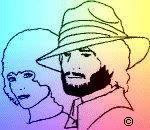 45,000 intelligent good-looking readers.

"The Lonely Sentry"

For the past several months we've been putting together a thirty song CD album
of recordings we've written and produced over nearly a half century.
There are tracks by us and several other artists we've worked with.
This is about one of them.

In 1965 I wrote a war song, inspired by our entrance in to the Viet Nam conflict.
It wasn't intended to be for or against this particular war,
but was an attempt to make war in general more personal...
not just death counts in the news.

We recorded it at Criteria Studios in Miami,
with Rusty Diamond singing lead,
and Misty Morgan singing harmony under the name Maryanne Mail.
The result was a sound and feeling unlike anything we'd ever heard.

The lead instrument in this record is an electric pedal banjo, 
the invention of the great banjo player Henry Cook,
who looked like a younger Henry Fonda. 
Henry had cables going down from his banjo to a row of pedals on the floor, 
so he could get the slide and sustain of a steel guitar and keep the funkiness of the banjo. 

Paul McLaughlin (sax and Harmonica) was a regular member of our Miami band. 
On this cut Paul plays harmonica, and Misty plays the bells.
The instrumental break features this odd combination:
Electric pedal banjo, harmonica, and church bells.

The recording was first released on our own Zodiac Records,
and later on Nashville's Starday Records.

You can listen to it here: http://tinyurl.com/37fyvl

Personnel:
Bells and harmony vocal (as Maryanne Mail) -Misty Morgan, 
Drums- Ronny Caban, 
Bass- Jackie Raye, 
Rhythm guitar- John Abate, 
Electric banjo- Henry Cook, 
Harmonica- Paul McLaughlin. 
Produced & arranged by Jack Blanchard. Pub: Jack Blanchard Songs (BMI).


Copyright © January 23, 2008 Jack Blanchard. All rights reserved.
Reprinted by permission.













©2008 www.jackandmisty.com. all rights reserved.