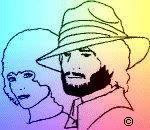 Now over 45,000 readers.

"The Great Frank Muller"

I used to read a lot of books. 
Now I listen to a lot of books. 

Iíve switched to audio books 
because I spend too many hours every day 
at my computer monitor, 
where I do just about all my work. 

These days I take in more fiction than I once did. 
For years I delved into science, philosophy, self-help, 
and on and on. 
After todayís long work day here at the PC 
Iím pretty wound up, 
and a good story will stop my obsessing 
about what I plan to do tomorroow. 

I like suspense, mystery, humor, excitement, 
and a trip through the light fantastic. 
A few of my favorites are 
Mark Twain, Dean Koonts, Elmore Leonard, J.R.R. Tolkien, 
Robert B. Parker, William Kottswinkle (Who?), 
Peter Straub, Douglas Adams, and Stephen King. 

But, with audio books, itís important who reads them to you. 
There are good audio book readers, 
and bad ones. 
It can make all the difference. 
Iíve left books unfinished because of annoying actors. 

I believe the best book narrator of all time was Frank Muller. 
Frank Muller isnít dead, 
but, sadly, he probably wonít be reading to us any more. 
He received serious brain damage in a motorcycle accident. 

I just brought home a bunch of audio books read by Muller, 
some of which Iíve read before, 
but I want to hear him again. 
He brings them to more than life. 

Frank can merely say ďChapter OneĒ and draw you right in. 
He has a voice from a distant world... 
a strange dimension of mystery, adventure and fantasy. 
He has dozens of great voices, accents, and mannerisms 
for the characters in his stories. 
He makes some books better than they really are. 

I have just ordered two more that I want to experience again: 
ďThe TalismanĒ, by Stephen King and Peter Straub, 
and Kingís ďBag of BonesĒ. 

The only Frank Muller performances I wonít listen to again 
are books I just donít like. 
I donít want anything with Tim LeHayeís name on it, 
and I wonít get near anything written by Clive Barker. 
Heís just sick. 
Even Frank Muller canít save these. 

Frank Muller is recovering slowly, 
but itís doubtful that his magic voice will carry us off to other worlds again, 
except in reruns, 
which are what Iím enjoying now. 

You can learn more about Frank Muller 
at: http://bitchen.com/muller/ 
  
Copyright © July 23, 2004 Jack Blanchard. All rights reserved.
Reprinted by permission.













©2007 www.jackandmisty.com. all rights reserved.