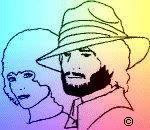 Now over 45,000 readers.

"Spam This."

I get spammed like everybody else. 
I just hit my delete button, 
even on free porno, after only a moment's hesitation. 

I think if you send them your address to be "unsubscribed", 
you start to get more. 

Some of my friends who publish quality newsletters 
are so nice about spamming, 
it almost makes me feel guilty. 
Almost. 

I try to send enough entertaining material 
to offset the tiny bit of promo at the bottom. 
I get a lot of nice letters every day, 
from people who enjoy my emails. 
I try hard to cheer the world up, 
and it's good to hear from so many who enjoy my efforts. 

I have a HUGE list, but I send it right from here. 
No pesky list membership to join. 

Out of all the people I guess I've spammed (Not really), 
in the whole year and a half, 
I've only had about 3 or 4 ask to be removed. 
And I resented those. 
I thought about sending Big Lefty over to their house. 

I'm too sensitive. 

I'm thinking of putting this notice at the bottom of my page: 

To be removed, send an email, and a letter from your mother to: 
SoLongSucker@fictitious.com 
We will send somebody to remove you. 

Love, 

Jack Blanchard. 

(Please file under "Just Kidding".) 

Copyright © May 12, 2002 by Jack Blanchard. All rights reserved.













©2007 www.jackandmisty.com. all rights reserved.