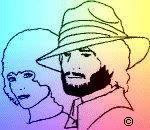 Now over 45,000 readers.

"Songs From Space"

Our friend and mentor, Bill Hall, once told me 
that somewhere around 95% of all number one hits 
are love songs. 

I think he was trying to get me off my unorthodox writing 
about birds in dirty underwear, 
robbery and murder in a dark old city, 
a guy being buried, and seems to know what's going on, 
a country singer falling in love with a fire hydrant, 
and songs about birth, death, and beyond. 

Maybe he was testing me. 
I loved Bill, but it didn't work. 

I still write songs about odd subjects, 
but I write love songs too, 
when they come to me. 

I think that good songs come out of the air, 
from space, or from God. 

When this one started to come through, 
I knew it had to be written. 

(To listen to the song, click here): 
http://www.kokosuniverse.com/jm/wma/safe_harbor.htm 

"SAFE HARBOR" 

My ship of life sails stormy seas, 
Tossed and turned with every breeze, 
But I've found Safe Harbor in your love. 

Let the winds of time turn bitter cold 
On sails all torn and growing old 
I've found Safe Harbor in your love. 

Just breathe your love to me. 
Let me feel it soft and warm, 
And I can weather any storm 

If my ship is lost on waves of foam 
Just shine your light and guide me home. 
I've found Safe Harbor in your love. 

Copyright © July 25, 2005 by Jack Blanchard. All rights reserved.
"Safe Harbor" © Jack Blanchard Songs (BMI). All rights reserved.













©2007 www.jackandmisty.com. all rights reserved.