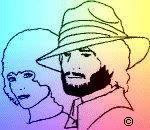 Now over 45,000 readers.

"Song Babies"

Itís harder to write songs under pressure. 
At least for me. 

When Misty and I were flying high on major labels, 
and having to plan a recording session every couple of months, 
the pressure was on us to come up with four or five songs 
that were not only damn good, 
but, more importantly, were different. 
Different enough to grab the public attention span. 

If we didnít, 
we would be at the mercy of the corporate guys 
who would descend upon us with songs written by themselves or their uncle 
and lots of ideas for improving our ďproductĒ. 

Iíve long resented the term ďproductĒ 
as applied to the music we work so hard at. 

Misty and I always recorded four or five songs in a three-hour session, 
and kept the suits at bay by writing 99% of them. 
We occasionally picked an outside song, 
before they got a chance to do it for us. 

Having to come up with so many special songs, so often 
was a constant pressure, 
because being a major label artist with hits 
isnít a condition thatís easy to maintain. 
Hit a slump and youíre back working at Burger King. 

There is little or no security for musicians at the top, 
This can bring on writerís block. 
It may be a form of a musical death wish, 
when the stress level gets way up the scale, 
and you almost donít care anymore. 

When the deadlines approached, I would start writing fast. 
Sometimes in the bus on the way to Nashville, 
or in the motel room before a session. 
There is a power that takes over 
when itís sink or swim. 
I felt as though my feet were up in stirrups, 
and somebody was telling me to breathe and push. 

Somehow my song babies turned out okay, 
and still call me once in a while.

Copyright © August 10, 2005 by Jack Blanchard. All rights reserved. 













©2007 www.jackandmisty.com. all rights reserved.