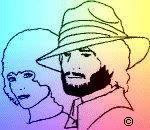 Now over 45,000 readers.

"Sing A New Song"

Back in the 70's or 80's 
(I'm no expert on time), 
our bus broke down in Valdosta, Georgia. 

While waiting for the rig to be fixed, 
I called the local country station 
and talked to a DJ I knew from phone conversations. 
His radio name was Gary Monroe. 
His regular name is Gary Graves. 

We went to meet him, 
and he introduced us to Joel Mathis, 
a talented local country singer. 

We went to Joel's house, 
met his wife JoAn and the kids, 
and somebody handed me a flattop guitar. 

Gary set up a mike and a tape recorder, 
and I pitched a bunch of my songs to Joel. 
We wound up working together on some of them. 

Okay. 
It's last week (20 or 25 years later), 
and I get a CD in the mail from Gary Graves. 
We've been working to get some of Joel's music out. 
He passed away in 1999, 
and we think his music should be heard. 
The CD he sent was an hour or so of me pitching songs to Joel 
on that day, way back when. 
What a surprise! 

I'm singing a whole flock of original songs, 
and then I hear myself sing something I don't remember. 
It was called "Follow the Bouncin' ball". 
I said to Misty, across the breakfast table: 
"Hey! That's great! 
I sang a Roger Miller song!", I said. 

She said something like: 
"YOU wrote that, dummy". 

Well, I may have imagined the dummy part, 
but it took me a few minutes to remember that I DID write it 

I can't get the damn thing out of my head, 
and I had completely forgotten it. 

We're just going to HAVE to record it. 

Don't tell anybody, 
because I'm going to say it's a new song. 

Copyright © May 10, 2002 by Jack Blanchard. All rights reserved.













©2007 www.jackandmisty.com. all rights reserved.