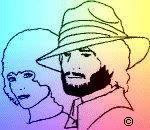 Now over 45,000 readers.

"Quotations I Made Up"

The Agnostic's Dilemma: 
"I have 100 reasons why there is no God, 
so who's answering my prayers?" 

A Traditional Country Artist's Question: 
"My old records have back-up vocals. 
Should I feel ashamed?" 

Looking Back: 
"I used to be strong as an ox 
and twice as smart." 

Relationships: 
"Nobody is completely sane 
when you get to know them." 

Government: 
"The only problem with democracy is this: 
The majority is dumber than we think." 

Possibilities: 
"Anything is possible, 
but not probable. 
Give it a try anyway." 

Boredom: 
"Right now I'm going to sit here. 
Then I plan to sit over there. 
I've got it all worked out. 
Hey! There's a documentary on PBS 
about bus station cuisine in the 1930's!" 

The Circle of Life: 
"What goes around comes around 
only if it happens to be the flu." 

Relatives: 
"No matter how it looks from the outside, 
there is no such thing as one big happy family." 

Encounters: 
"Nobody is as good 
or as bad 
as you think they are. 
They are probably worse." 

The News and our Health: 
"Nothing you can swallow is good for you. 
Every newscast has a warning 
about the dangers of some food or medicine. 
This gives us stress. 
Stress lowers our resistance, 
and is the main cause of illness. 

The Modern Hypochondriac: 
"Right now I don't feel too bad. 
I wonder what that means? 
Should I ask my doctor?" 

A Sign for the Gym: 
"Won't a lot of exercise put mileage on my heart?" 

Mother Teresa's Dilemma: 
"Every good deed contains a bit of selfishness, 
even if it's to save our own soul, 
or to like ourselves, 
so am I just being selfish by helping others?". 

The Futility of Debate: 
"Opinions are our most prized possessions 
and we protect them from your logic." 

My Condition: 
"My brain is so packed with wisdom, 
that just writing this 
eases the pressure." 

Copyright © October 10, 2005 by Jack Blanchard. All rights reserved.
Reprinted by permission.













©2007 www.jackandmisty.com. all rights reserved.