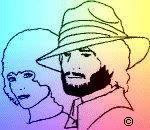 Now over 45,000 readers.

"Our New Year's Resolutions"

Misty and I have made some resolutions lately: 

Never to ask opinions of our work. 
Never to reply to opinions of our work. 
Never vote for anybody named Skip. 
Never go to a hospital named The Zippy Hospital. 
Never deposit money in Al's Bank. 
Never try to explain who we are. 
Never talk to an imaginary herring. 
Never to book a gig that doesn't look like fun. 
Never buy anything big at Radio Shack. 
Never to play dance music...just shows. 
Never wear helmets while skateboarding. 
Always wear helmets during sex. 
Never tango, or carry a rose in our teeth. 
Never carry a rose in any body cavity. 
Never turn our turn signal off. 
Never go near Sebring, Florida. 
Never go to bed mad. 
Never lie when it's inconvenient. 
Never use an alarm clock. 
Never use a big word where a small word will do. 
Never take Viagra before a business meeting. 
Never buy an extended warranty. 
Never buy a pacemaker from a guy in a pickup truck. 
Never hit a chiropractor, even in self defense. 
Never yodel at a funeral. 
Never glue sequins to a squirrel, except as eveningwear. 
Always play the music we do best...our own. 
Stop and take some time for ourselves. 
Call people by their first names, 
especially if they refer to themselves as Mister. 

Copyright © Dec. 31, 2002 Jack Blanchard. All rights reserved. 













©2007 www.jackandmisty.com. all rights reserved.