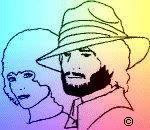 45,000 intelligent, good-looking readers.

"Uncle Will On Orlando And Hanky Panky"

Our strange but true friend Will Campbell sent this to us today...
    Jack

UNCLE WILL ON ORLANDO AND HANKY PANKY.

"Progress has certainly gotten out of hand. 

"I came to Orlando in 1943. There were about 27,000 inhabitants in Orange County. 
All of us spoke English.

"Life was good. The BIG war was going on and patriotism was running wild. 
We never even locked our doors. Wild animals were all over the place. 
There were ducks and swans in all of the lakes. Mom & Pop flourished. 

"Life was dandy. Schooling was important. The Saturday matinée was big. 
We all had jobs. When Disney came along Orlando went straight to the bottom.

"We'd all like to put the blame somewhere. 
As I look at today's Orlando, I can't believe what has happened. 
Of course, the answer is right in front of me. I think it's the Population Explosion. 

"People can't seem to understand what we must do to preserve the future...
and cut down on the 'explosion'  I do. Hanky is okay, but panky has got to go. 
Older people think like this. Watch a movie, instead!"
Well put, Will.

"Sometimes I don't know what comes over me. I think college ruined me forever. 
That's when I started 'knowing' everything. It's a real curse."

          Will Campbell

Copyright © May 27, 2007 Will Campbell (and associate). All rights reserved.
Reprinted by permission.













©2007 www.jackandmisty.com. all rights reserved.