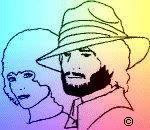 Now over 45,000 readers.

"No Sense Lying About My Age Anymore"

NO SENSE LYING ABOUT MY AGE ANYMORE.

This item appears today in newspapers and on TV
all over the world today.

Famous Birthdays 

Tuesday, May 8, 2007
— The Associated Press


Tuesday: Comedian Don Rickles is 81. Singer Toni Tennille is 67. Country singer Jack Blanchard is 65.
Singer Gary Glitter is 63. Drummer Chris Frantz of Talking Heads is 56. Singer Philip Bailey (solo and with Earth, Wind and Fire) is 56.
Country musician Billy Burnette is 54. Drummer Alex Van Halen of Van Halen is 54. Actor Stephen Furst (St. Elsewhere, Animal House) is 53.
Actor David Keith is 53. Actress Melissa Gilbert is 43. Drummer Dave Rowntree of Blur is 43. Drummer Del Gray of Little Texas is 39.
Singer Darren Hayes (Savage Garden) is 35. Singer Enrique Iglesias is 32. Actress Julia Whelan (Once and Again) is 22.

Jack Blanchard (Sigh) 

Copyright © May 7, 2007 Jack Blanchard. All rights reserved.
Reprinted by permission.













©2007 www.jackandmisty.com. all rights reserved.