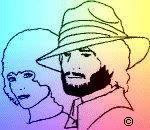 Now over 45,000 readers.

"Man Loses Bird"

Psychologists have discovered that each of us has three personalities:
The Child,
The Parent,
and The Adult. 

The Adult is the levelheaded one…
the data processor. 

Scientists can tell when when we shift from one to the other
by what we say, and how we say it. 

EXPERIMENT: 

Subject "A" is late for a badminton game, and calls out:
"Where is my bird?"
This is a simple Adult request for information. 

Ideally, "Mrs. A" will respond in will reply in the same Adult mode:
"I don't know, dummy." 

However, if her Parent takes over, she may say:
"If you put your bird where it belongs,
you will always know where it is, dummy." 

This could cause him to go into his Child mode,
kicking his feet and turning blue. 

On the other hand,
"Mrs. A" might respond in her Child personality, like this:
Do you think I'd steal your dumb bird, you wanker?" 

Now. let's suppose his Child had asked the question in the first place:
"I want my bird!!! Wah!!!" 

Her Parent may respond with:
"Now, now. Mama's little stupid mustn't cry." 

Unfortunately. her Child will usually react to his Child with:
"I wouldn't TOUCH your lousy bird!
They ought to drop the net on you and your whole badminton team!!!
Why don't you knock it off and get a job?
And furthermore,
WHAT KIND OF A NAME IS 'A'?
MAMA WAS RIGHT,
I SHOULD HAVE MARRIED 'B'!" 

Moral: A bird to the wise is a penny earned. 

Copyright © September 17, 2002 by Jack Blanchard. All rights reserved.













©2007 www.jackandmisty.com. all rights reserved.