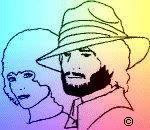 Now over 45,000 readers.

"Letter From An American Sailor At Sea"
by Fred Conklin

LETTER FROM AN AMERICAN SAILOR AT SEA.

"About two hours ago, we were hailed by a German Navy destroyer,
Lutjens, requesting permission to pass close by our port side.
Strange, since we're in the middle of an empty ocean,
but the captain acquiesced,
and we prepared to render them honors from our bridgewing.

As they were making their approach,
our conning officer used binoculars,
and announced that Lutjens was flying not the German,
but the American flag.

As she came alongside us,
we saw the American flag flying half-mast and her
entire crew topside standing at silent,
rigid attention in their dress uniforms.
They had made a sign that was displayed on her side that read:
"We Stand By You."
There was not a dry eye on the bridge
as they stayed alongside us for a few minutes and saluted."



(Thanks to Fred Conklin for sending this.)

Jack Blanchard, Nov. 1, 2001 

Copyright © Nov. 1, 2001. All rights reserved.













©2007 www.jackandmisty.com. all rights reserved.