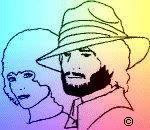 Now over 45,000 readers.

"Judge For Yourself"

For a writer with a whole lot of readers 
I don't get much angry mail. 
Most people who write to me are very nice. 

Once in a great while I get one from somebody 
who obviously has mental problems, 
like the one I got yesterday. 

He hates all the music Misty Morgan and I have ever done 
even though he hasn't heard any of it. 
He did hear "Tennessee Birdwalk" 33 years ago, 
and shut off the radio. 

We have made hundreds of beautiful recordings since then, 
if I do say so myself. 

He said he only wants music with Johnny Gimble's fiddle playing, 
and steel guitars. 
Johnny Gimble has played on many of our recordings, 
as well as these steel players: 
Lloyd Green, Pete Drake, Buddy Emmons, Weldon Myrick, 
and me. 

I didn't respond directly to his hate mail 
because I didn't think it deserved it. 
Some people just like to write nasty letters 
and shouldn't be encouraged. 
So I'm writing this public response. 

Here are two songs you can click to hear, 
and you can judge for yourself if we're country, 
and if we're any good: 

"SAFE HARBOR" 
Hi-Fi:  http://www.kokosuniverse.com/jm/wma/safe_harbor.htm 
Lo-Fi: http://lswazzo.topcities.com/JackNMisty/Safeharbor.ram 

"SOMEWHERE IN VIRGINIA IN THE RAIN" 
Hi-Fi only: 
http://www.kokosuniverse.com/jm/wma/intherain_nif.htm 

Copyright © November 8, 2003 Jack Blanchard. All rights reserved.
Reprinted by permission.













©2007 www.jackandmisty.com. all rights reserved.