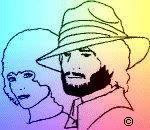 Now over 45,000 readers.

"I Didn't Know I Was So Important"

When I got up today
I had no idea I would become so important.

One of the first things I do every day
is read through the most popular country music newsletter in the
world,
Doug Davis' Country Music Classics.
Today there were a couple of really snippy reader comments
about entertainers voicing their opinions.

Being and entertainer
and an American citizen,
I wrote a short article in rebuttal
about freedom of speech.

Besides music,
I've written a column for over 35 years.
Opinions are part of that job,
but I've seldom had such hate come back at me from a few jerks.
(The jerks part is just a personal opinion,
and probably not indictable.)

I'm being banned, boycotted,
and personally attacked on the internet.
If any of these were written with reasonable intelligence,
it would bother me more,
but it does bother me to see how split our country has become...
neighbors hating neighbors over politics.

When I write an opinion
I try do do it with civility and reason.
Like a gentleman, as my dad used to say.

I think that's going out of style.

One more thought:
Politicians are entertainers too.

Copyright © July 25, 2004 Jack Blanchard. All rights reserved.
Reprinted by permission.













©2007 www.jackandmisty.com. all rights reserved.