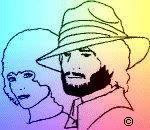 Now over 45,000 readers.

"What Happens When You Run Out Of Halloween Ideas"

The neighbors complain that I'm too big to be coming to their doors
with my Trick or Treat bag.
Too bad I don't drink anymore. 
Alcohol really helped my Halloween enthusiasm.


Lately, if I dress up for the occasion,
it's not in a regular costume...
It's just some flotsam and jetsam from the back of the closet.
I hate it when people ask me what I'm supposed to be.


My sister sent us this note"


"I am going to wear a costume 
to hand out tricks or treats to the neighborhood kids as I usually do, 
however, this year I'm going to have to make do 
with half of one costume and half of another, since money is tight.
I have part of a "Grim Reaper" suit and half of a duck outfit 
so I'm going as....... 'The Grim Duck'.
Happy Halloween! Love, Val"


I'm sure that hers will be better than our recent attempts.
Misty was sort of a Dolly Parton,
and I was some kind of gangster/dentist.



If you don't see the picture, click here: http://tinyurl.com/28zk8p


I know the neighbors will give me a hard time in this getup.

Copyright © October 14, 2007 Jack Blanchard. All rights reserved.
Reprinted by permission.













©2007 www.jackandmisty.com. all rights reserved.