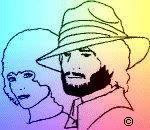 Now over 45,000 readers.

"Grandma Was A Gibson Girl"


Ethel May Blanchard 

Did you ever find yourself visiting friends, 
and you get cornered into looking at their family pictures? 
And yet, when guests come to your house, 
you drag out your family album, 
even though you know it drives them nuts. 
You can't help it. 
Today I'm sending you a picture of my grandmother. 
I can't help it. 

My grandmother dressed in the Gibson girl style when she was young. 
That was before torn jeans, 
before hip hop styles, 
before hippies, 
before bobby soxers, 
and before flappers. 

I think Gibson Girls wore corsets to hold things together. 
The flappers later tossed all that restrictive armor away. 
Maybe that's how they got to be flappers. 

I think the Gibson style was prettier and had more dignity, 
but the flappers of the Roaring Twenties, like my mother, 
were wilder and maybe more exciting. 
It depends upon your idea of "exciting". 

The bobby soxers of the 1940's screamed at Frank Sinatra. 
I don't know why. 
He hadn't even slapped them around yet. 

The hippies were the relaxed crew who invented "laid back". 
They protested for peace, rock and roll, and smoking pot. 
They were speakers for freedom, 
and against expensive material things. 
Unfortunately, they grew up to be yuppies. 

Today the boys wear clothes eight sizes too big, 
and the girls wear very little. 
If they enjoy it, more power to them. 
Life for them is not going to be easy unless their parents are rich. 
For what it costs to go to college now 
you used to be able to buy a medium-sized neighborhood. 

Anyway, my sister Val has been creating family web sites, 
and the photographs are fascinating to me. 
There was much more to my grandmother 
than meets your eye in the pretty picture. 
If you'd like to visit her website, it's here: 
http://tinyurl.com/2fp84z

That wasn't so bad, was it? 

Copyright © March 3, 2007 Jack Blanchard. All rights reserved.
Reprinted by permission.













©2007 www.jackandmisty.com. all rights reserved.