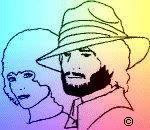 Now over 45,000 readers.

"Good And Bad Sides To Indie Awards"

Recently some awards were given out 
at a big annual shindig in Nashville. 

Some of the winners of these trophies are harassed 
by critics who call the awards "phony". 

Personally, I hate to burst somebody's balloon. 
Let them be happy with their awards. 
Life is short. 

However, the critics have some good points. 
The price to participate in these events is high, 
and the chance of getting discovered at them is low. 

Some friends took us to the 1999 King Eagle Awards get-together, 
where we did two songs with the house band. 
(By the way, the house band was great!) 
Before this, we had never heard of The King Eagle Awards. 
We did it just for fun, 
and they paid all our expenses. 

We got a standing ovation, 
and were surprised with an award: "Legendary Entertainers". 

We enjoyed that part of it, 
but we did feel a little sorry for so many of the singers 
who paid big money just to get up and do a couple of karaoke numbers. 

Misty and I may have been the only act that benefited from it all. 
If any others did,  I'd love to hear their stories. 

We hadn't had a record released in eight years, 
but at the show we just happened to run into somebody who helped us. 

I don't like to see a lot of aspiring artists pay big money 
to do karaoke for a bunch of other aspiring artists, 
but some good can occasionally come from it . 

We wouldn't be active in the indie field today, 
if we hadn't gone up to Nashville for that event. 
It started the ball rolling. 

There should be better ways for indie people to get together 
without paying exorbitant prices. 
Getting together can bring good things. 

Hiding out at home can't. 

Copyright © September 29, 2003 Jack Blanchard. All rights reserved.
Reprinted by permission.













©2007 www.jackandmisty.com. all rights reserved.