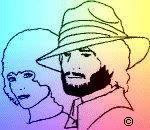 Now over 45,000 readers.

"Funny Stuff People Send Me"

CHICKENS IN THE WIND: 
In North Dakota where the wind blows steadily, 
my father-in-law claims it stopped one day, 
and all the chickens fell over. 
     *     *     * 

ODD WINDOWS COMMAND 
(from Graham and Kay): 
"Press any key to continue or any other key to quit." 
     *     *     * 

OPENING LINES FOR MY NEXT NOVEL: 
As a scientist, 
Throckmorton knew that if he were ever to break wind 
in the echo chamber he would never hear the end of it. 

Stanley looked quite bored and somewhat detached, 
but then penguins often do. 

"The crows are calling my name", thought Caw. 
     *     *     * 
MISCELLANEOUS QUOTES: 
Give me immortality 
or give me death. 

"Outside of a dog, a book is probably man's best friend. 
Inside of a dog, it's too dark to read." 
Groucho Marx 
     *     *     * 

AND FROM WILL CAMPBELL: 
In my day, we couldn't afford shoes, so we went barefoot. 
In winter, we had to wrap our feet with barbed wire for traction. 

In my day, we didn't have rocks. 
We had to go down to the creek 
and wash our clothes by beating them with our heads. 

Copyright © 2004 Jack Blanchard. All rights reserved.
Reprinted by permission.













©2007 www.jackandmisty.com. all rights reserved.