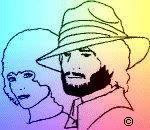 Now over 45,000 readers.

"Chuck Dixon. A Secret"

Our friend Chuck Dixon passed away just before Christmas.
I hope he doesn't mind if I tell a little secret.

We met Chuck several times over the years, but just briefly.
We were aware that he was a top record promoter in Country Music.

The first time we really met him, and had a chance to get acquainted,
was at the 1999 Golden Eagle Awards, in Nashville.
We had just been given an unexpected "Legendary Entertainers" award, and
the long day's show was over.
Chuck came over to where we were sitting on a low brick wall, resting.
He introduced himself, and we talked for a while.
After that, we became friends by telephone.

We sent him a bunch of our music, and he literally LEARNED it all...
every word and every note.
He knew more about our recordings than we did.
His favorite was "There Must Be More To Life Than Growing Old".

He released two of our songs on his Song 1 label in 2000.
"Somewhere In Virginia In the Rain" did well,
but "Rings Of Gold" made it to number one in Indie World.

Chuck had a gruff manner, which often scared away the fainthearted,
but he was solid gold inside.

Here's the little known fact that I've been aware of for a long time:
For years, before Christmas,
he would send out two representatives to find families who needed help.
They'd bring back the names and other information,
and Chuck would send them back out with money, food, and gifts.

I know this because his two representatives were my daughters,
Michele and Kathi.
They were friends with Chuck long before we met him.

We will miss him.

Copyright © January 3, 2002 by Jack Blanchard. All rights reserved.













©2007 www.jackandmisty.com. all rights reserved.