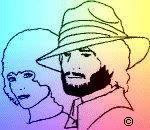 Now over 45,000 readers.

"Indie Artists, Blow Your Own Horn"

Indie artists, go ahead and thank the DJ's right there on the message boards. 
Just don't take up too much space, or your efforts can backfire. 

Indie artists, labels, songwriters, musicians, 
go on and advertise your products on the boards. 
You have a perfect right. 

Tell your stories, your news, or your opinions. 
Let the world know you are not just a track number on a compilation. 
You also exist as a person. 

About a third of every hour of TV is taken up by commercials, 
because ADVERTISING PAYS. 
If you don't get your presence out there, you lose. 

We all know that every "thank you" posted on a board serves two purposes: 
One is to actually thank the DJ for playing your music, 
and the other is to have your "thank you", and your name, 
and your product, seen by people in the business. 
It's advertising, and it's fair. 

Indie artists in particular have a right to any free ads they can get. 

Many DJ's, especially in places other than America, don't get paid. 
They are volunteers, and I admire them for it. 

But the Indie artist not only doesn't get paid, 
but often spends grocery money to get on labels, 
so their music can be heard. 
They also dip into their personal budget 
to mail out CD's, liners, and on and on. 

Most of the Indie artists are not only volunteers, 
but are paying through the nose for the privilege. 

They deserve the patience and understanding of 
those who say they are annoyed by the "self-aggrandizement". 

Don't worry about it. Blow your damn horn. 

Copyright © August 31, 2002 by Jack Blanchard. All rights reserved.













©2007 www.jackandmisty.com. all rights reserved.