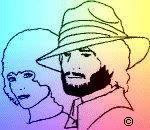 Now over 45,000 readers.

"A Job For Big Lefty"

This from a great and well-known steel player friend:


"Nineteen years ago, I called about a job with ******* ****** 
(A female Country star). 
I spoke with her bandleader, who I think was her son. 
I was giving him my track record, when he said, 
'By the way,how old are you?' 
I replied, '45'. 

He then said, 
'Oh, sorry, but  ******* is not hiring anyone over 30!' 

I was so dumb-founded, I didn't even think to call the labor board and report it. 
I'm 64 now, and probably playin' as good as I ever did, maybe better, 
but where am I gonna go? 
Who's gonna hire me? " 

Another friend who is a session leader in Nashville 
told me that he brought in one of the all-time great A-team pickers, 
and the producer yelled this at him: 
"Don't you EVER bring another gray-haired musician into my sessions!" 

We're gonna have to send Big Lefty over to pay these idiots a visit. 

Copyright © September 7, 2002 by Jack Blanchard. All rights reserved.













©2007 www.jackandmisty.com. all rights reserved.