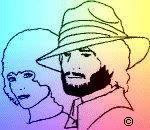 Now over 45,000 readers.

"A True Payola Story"

This is absolutely true: 

A long time ago I was a member of a Pop vocal group: The Dawn Breakers. 

We were four young guys from Buffalo: 
Don Fronczak, Buddy Baker, Jim Warne, and me. 
They were all good soloists, 
while I never sang lead. 
I wrote the songs and the arrangements, 
and sang the in-between notes. 

We were on Coral Records, a division of Decca. 

One night I went with the rest of the Dawn Breakers 
to the night club where George "Hound Dog" Lorenz was broadcasting. 
He was a powerful Rock DJ in Western New York. 
We were there to plug our Coral single: 
"Boy With the Be-Bop Glasses" b/w "The Things I Love". 

Jerry Vale was also standing there with us, 
waiting to get his latest single played. 

We stood right next to The Hound for a long time, 
politely waiting. 

A listener, a teenage girl, called in and requested our song. 
He told her that he had the record right there by the turntable, 
but he wasn't going to play it. 

We were kind of shocked, and asked him why. 
He was ticked of because Herb Knight, a rival DJ, got the record first. 

The Hound Dog then asked us for payola. 
Point blank.
In front of everybody. 

I asked what kind of money he needed to play it, and he told me this:
"Alan Freed got a new Cadillac". 

We didn't have any money, and he never did play it. 

The Music Business has always been fun. 

Copyright © August 12, 2002 by Jack Blanchard. All rights reserved.













©2007 www.jackandmisty.com. all rights reserved.