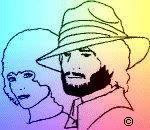 45,000 intelligent good-looking readers.

"A Song For The Season"

Autumn is on its way... my favorite time of year.
It's a colorful, yet melancholy season,
conducive to thoughts of home,
echoes of good old times,
and memories of those we loved and lost.

We are thinking of taking a trip to Celina, Tennessee,
to see the leaves, which should start turning color in a few weeks,
and to be with family.
Who knows when we'll get another chance?

As I write this,
September 7th, 2007 is on its way out,
and will be gone forever in a few short minutes.
One of our songs concerns this date.
It's an autumn flavored song, 
taking us from summer's end to bleak early winter...
Part of it goes like this:
"It was the seventh of September, nineteen hundred sixty nine,
95 degrees and rising, we crossed the Pennsylvania line.
We paid a judge our last ten dollars to bless us with his legal seal.
I guess that puttin' love on paper doesn't always make it real."

A song for the season,
and if you care to, you can listen to it here:
http://www.kokosuniverse.com/avi/jm/wma/second_tuesday.htm 

Copyright © September 7, 2007 Jack Blanchard. All rights reserved.
Reprinted by permission.













©2007 www.jackandmisty.com. all rights reserved.