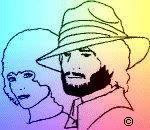 45,000 intelligent good-looking readers.

"A Last Word"

Lee Hazlewood died Saturday.
I didn't know much about him.
I think that's the way he wanted it.
I once found a website of his that opened with these words:
"This site is designed to tell you as little about us as possible."
A private guy.

Anyway, I admired his singing and his producing,
especially his singing.
Lee Hazlewood, Roger Miller, and Ernest Tubb...
each contributed maybe ten percent to the way I sing now.
The rest is me.

I was a Lee Hazlewood fan before he sang with Nancy Sinatra.
I was impressed with that deep edgy voice.

Misty and I are often compared to Lee and Nancy,
although Misty does not sound like Nancy Sinatra.
It's probably me.
("Like Lee and Nancy on acid." from an album cover.)

All duets sound alike to some people.
We've been likened to Sonny and Cher,
but I think they sounded like each other.
Sometimes I didn't know which one was singing.
("Like Sonny & Cher in a poppy field in South Carolina."
from the book "Finding Her Voice" by Robert K. Oermann and  Mary A. Bufwack.)
Do they have poppy fields in South Carolina?

People have actually said that we reminded them of Les Paul and Mary Ford,
but I don't play lead guitar, and Les doesn't sing.
Misty used to do a good impression of Mary Ford on stage,
when we had Doug Tarrant playing Les Paul type lead.
Other duets in the mix are The Captain and Tenille,
and Louis Prima and Keely Smith.

I've been variously accused of imitating Willie Nelson and Leon Redbone, 
but I'm not trying to.
I don't sound like Willie,
and I think I was doing it before Leon.

Misty sounds only like herself...an original.
I'm more easily influenced,
but I don't mind it when I'm compared to Roger Miller and Lee Hazlewood.
In fact, I kinda like it.

I didn't know Lee Hazlewood,
but I feel a sense of loss at his passing,
and I wanted to say this to him:
Thanks for the the music.
It's all been good.

Copyright © August 6, 2007 Jack Blanchard. All rights reserved.
Reprinted by permission.













©2007 www.jackandmisty.com. all rights reserved.