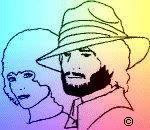 Now over 45,000 readers.

"A Brief Goodbye To Frankie Laine"



Frankie Laine just died. 
It was on the news tonight. 
I wonder how many people remember him as well as I do. 

I knew he was something wildly different 
when I first heard him on a juke box. 
I'd never heard anybody sing like that before. 

Even though he is probably best known for his big western songs, 
like Mule Train, Rawhide, and so on, 
he started out as a jazz singer, 
with his pianist partner Carl Fisher. 

Laine struggled to make a living at singing 
until he was almost forty. 
He paid his dues. 
After that, he sold over a hundred million records. 
That was a huge accomplishment in the 1950's. 
Even now. 

He sang the theme song in Mel Brooks' 1974 movie "Blazing Saddles", 
and sang live on national television a year ago, 
when he was only ninety-two. 

I had what I think was his first album, 
with great jazz and blues songs like "Black and Blue", 
"West End Blues", "Saint James Infirmary", 
and some standards like "Sunny Side of the Street". 
I wore the grooves right off it. 

Several years later Mitch Miller became Frankie's producer, 
and made him rich. 
I didn't like the Mitch Miller recordings as well as the earlier style, 
but I'm glad he got the worldwide recognition he deserved. 

My favorite of his works was a haunting song 
that he and Carl Fisher wrote..."We'll Be Together Again". 
It was covered by everybody, 
but Frankie Laine sang it best. 
If you can find that song somewhere, give it a listen. 
I think you'll be hooked. 

Unfortunately, I never met Frankie Laine, 
and I haven't even listened to those songs in a long time. 
I just hate to hear that he left the party 
before we had a chance to talk. 

I wish you could have heard him sing the blues. 

Listen to
"We'll Be Together Again", 
Sung by Frankie Laine.
Written by Frankie Laine and Carl Fischer.
Late 1940's...early '50's.
http://www.kokosuniverse.com/avi/jm/wma/together_again.htm

Copyright © February 7, 2007 Jack Blanchard. All rights reserved.
Reprinted by permission.













©2007 www.jackandmisty.com. all rights reserved.